I was leaving a private sector work to join with civil society organization as I believe I could not belong to private sector, then it has been 8 years already when I looked back to my first start in human rights work. My first start back then was not a welcoming moment as the leader of the organization (Kem Sokha back then and now the deputy leader of main opposition party) and few other human rights activists were arrested in connection to the human rights day celebration. With that incident, I shall run a way if I am scared of this risky job, but I did not. I was at office during that time of Kem Sokha's arrest while I came on weekend to clear pending tasks. That moment  inspired me to work further in my role to contribute to the the whole organization work in collaboration with other community to demand for their release and promotion of human rights respect in Cambodia.
I kept saying the human rights situation is fluctuated like the economic graph where it was up and down at certain period. Here the graph where I has drawn up: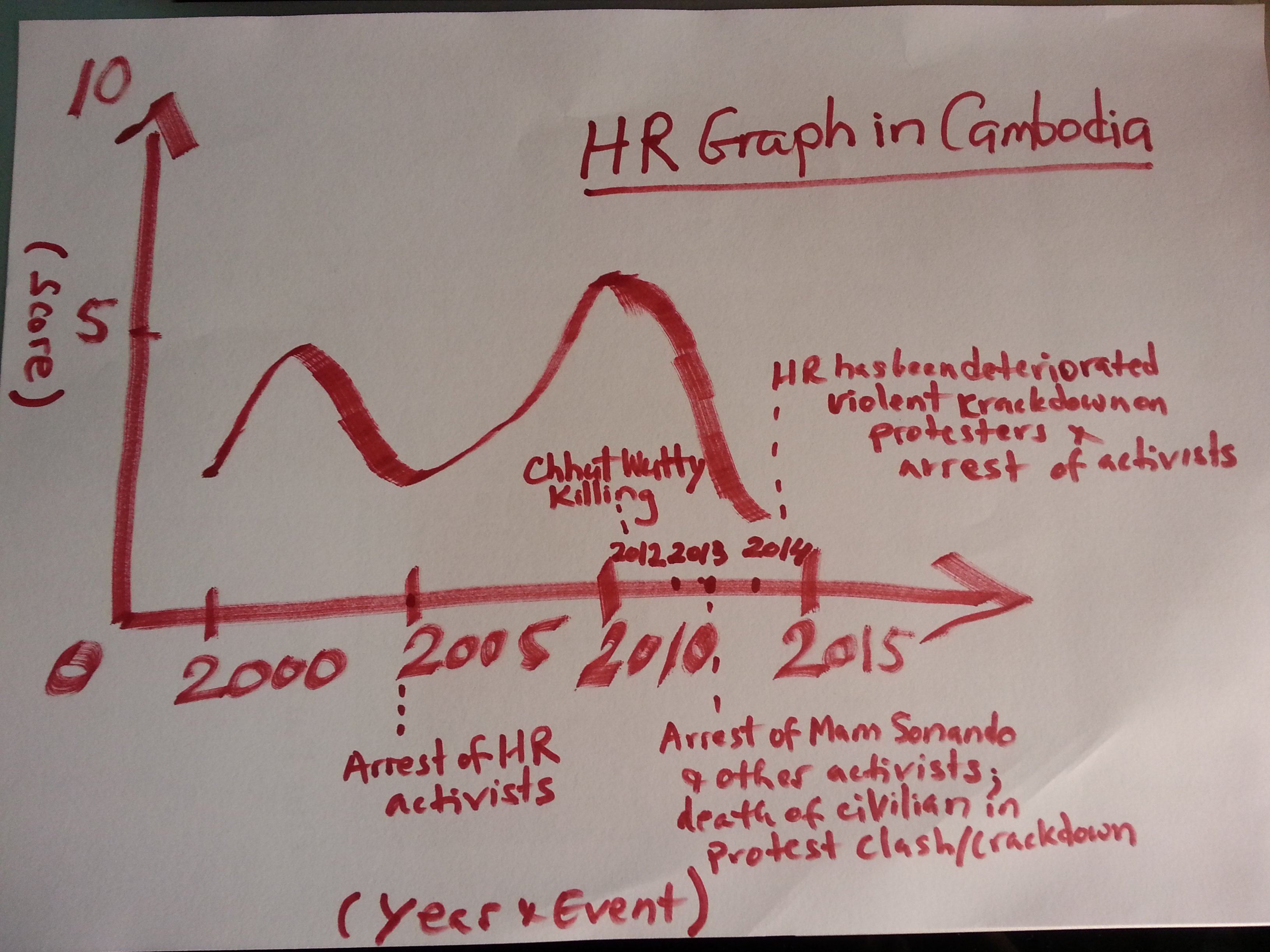 After years of working with the expectation to see the trend of human rights situation would went up as the government would envision for the economic growth where the two could converged along the way together, the scenario of human rights has returned back to the point where I had started in late 2005. Now the question is whether the trend would move on, will it be up or further down?
Cambodian government, although under criticism of failure to protect and promote human rights for years, there has been attempt to address the criticism and 2013, the year of 5th mandate national election saw a mixture of development where restriction was applied in the mid of promising development of people participation in democratic process. Thanking to a not-yet restricted social media where majority of youths utilize this tools to disseminate and discuss political subject. The common self-censorship attitude appears to be lessen among most commentators who bravely speaks in their name and their identity to criticize government policies.
The ongoing political deadlock in which parties clashed on result of election held since 28 July 2013 has still not yet reached its common door for political resolution. With election result showing the decline of voters' support to the long-time ruling party made the government leading by the Prime Minister Hun Sen to promise for an in-dept reform in its governance performance. Such commitment shall reflect well with policy formulation and implementation. Yet, the recent violent crackdown on protests by oppositional party and other civil actors such as unions and land activists may draw back that promise and further affect the score that people would place for this ruling party.
While many are in line with opposition party whose slogan for change of this country may not purely in line for political support but for the change they want to see, the opposition is mandated to  set clear strategy for change they had promised too; otherwise the support they has enjoyed to back up their political agenda would slowly decrease.
Now the main question is what next the political parties would need to correct the current situation? As a human right advocate, I condemn the violent means that affect human rights situation and parties need to restore this situation immediately before it would get even worse. It even become necessary for the claiming government to ensure that their in-dept reform including the improvement of public service and functions shall mainstream human rights principle so that its claiming rule of law and democratic state is translated in real practice. The current violent crackdown resulting to death of civilians and protesters must be properly investigated without finger point of blame and those who commit of this act must be brought to justice otherwise the culture of impunity is always there. The arrest of activists who exercised their right to freedom of expression and assembly and crackdown on their demand is not going to solve the root-cause of problem, instead it would just like adding fire on fuel, where it made the current political situation even worse.
The political solution I could see to address this deadlock is when both parties would agree now to set the rule of game together given the condition here accepted first: Re-election after National Election Committee would be reformed and recognized by all parties! For ruling party who claimed of victory could win with dignity by accepting this and if you are the winner you shall be confident in your voters again. For opposition party who kept contesting the election results, please mind your position that you are in battle field in the game you accept to enter (if re-election would happen), you are in to accept the result, if not, there is no way that countless elections would satisfy yours (I remembered during the CNRP party are to discuss to boycott election or not, Kem Sokah claimed to boycott while Sam Rainsy claimed to join election (meaning to accept the standard of the game) and yet party could contest result later if dissatisfied). So, my message to both parties, please agree to the point to make our nations proud of you both!