On weekend, a day after International Women Day (IWD) celebration, I met my 5 years old niece and I wanted her to practice her English learning at school. Then I asked her to start the conversation. Her first question to me was: How old are you?
With work, meetings, and celebrations around IWD, my brain was a bit slow to run with number and only after a while, then I realized I would turn thirty-four in coming days. Then I thought back in time and how ages and circumstances matter:
I got a dream when I turned ten: I wanted to be a doctor. It was just imagination but I wanted to be a famous doctor in Cambodia and if possible in the world to cure poor people. As I am a left-handed person, I wished that I could use this left hand to cure people effectively.
Then my dream changed. When I turned twenty I started an internship with a civil society organization instead of pursuing the nursing degree that could fulfill my dream. This was the pathway that totally changed my vision. Ten years later, I am obsessed with civil society work and social media platforms, and I have realized that this is who I want to be, not the doctor I had dreamt to become.
However, putting my life-path back to the intersection where I turned my back to a medical doctor career, probably other scenario could have happened. I might have been satisfied with myself or not, but I keep joking about that: probably those who know me now would have been my clients for medical service, or maybe we would have not met in this life-path.
Indeed, my dream changed due to circumstances. It was the family's livelihood reason and the fact that I could not afford to learn French language since young age so that I could well prepare for medical school examination, instead I could only manage to get pass for nursing school.
I looked back to my niece and responded to her so that she would know my age by now. Looking at her, it fills with full conviction in me that I would do my best to support her to fulfill her dream.
Suddenly, when I turned to my mobile and surf through Facebook, a news came up on my wall: an educational center for poor students run by a renown Cambodian journalist would be soon facing a closure. The news hit my heart strongly as I have followed the news about the school sometimes and I was impressed at how generosity and commitment that the journalist and his friends help to support young kids in a rural village of Svay Rieng province. The school have helped to educate a number of poor kids with English and computer skills for free of charge and that allows those poor kids and their parents to support them to educational opportunities. I believe those kids has their dream and with opportunity support, I hope their dream could come true.
Therefore, I now have a wish to celebrate my 34th birthday: that you all join my cause to support this school. The center would need at least 900$ to operate monthly to help educating about 200 kids. Hence, to celebrate my birthday, I call for your gift so that the collected amount will go to the cause for supporting this school operation (see photos of the school and its activities below).
I will start collecting my birthday gift from now until 30th March when I will really turn 34. Gift me with three numbered—which could be $3 or $34 or more—for "My Thirty-Four Birthday Celebration"!
Your gift will be properly collected, recorded and managed with transparency and accountability. Click here to gift me. Thanks to the Cambodian Center for Human Rights who kindly support this cause and allow the cash flow to go through its donation page. Hence, please kindly help to specify your donation with subject/note: For Sopheap's Birthday Cause if you choose to donate online via this platform.
Alternatively, please contact me via chaksophea[email protected] for any inquiry about this cause or way of donation.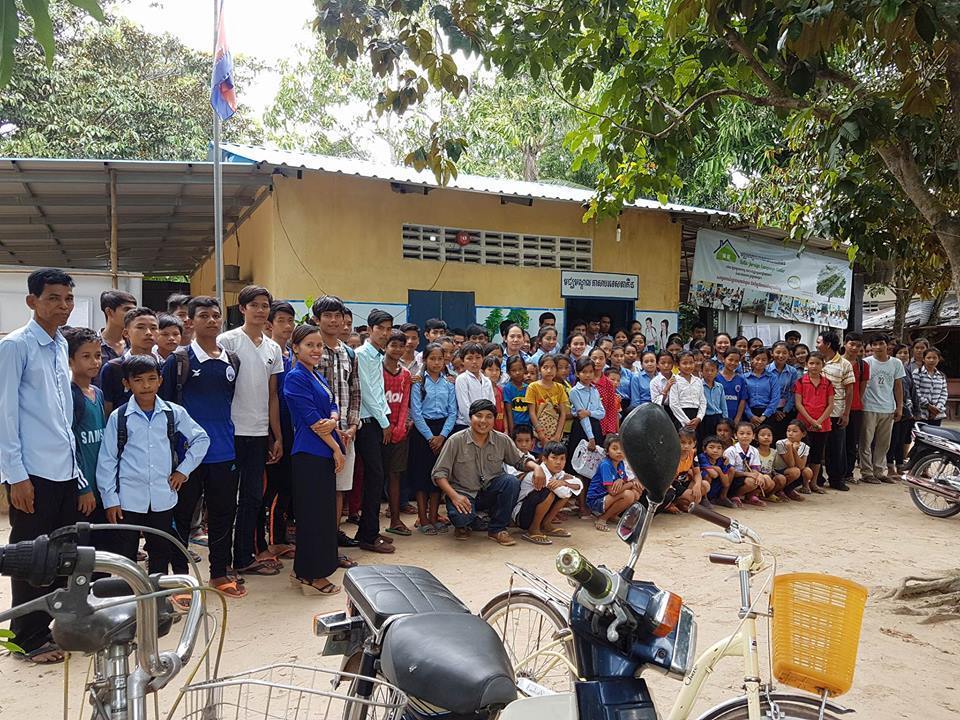 (Photo courtesy to the school founder May Titthara and Khmernas)