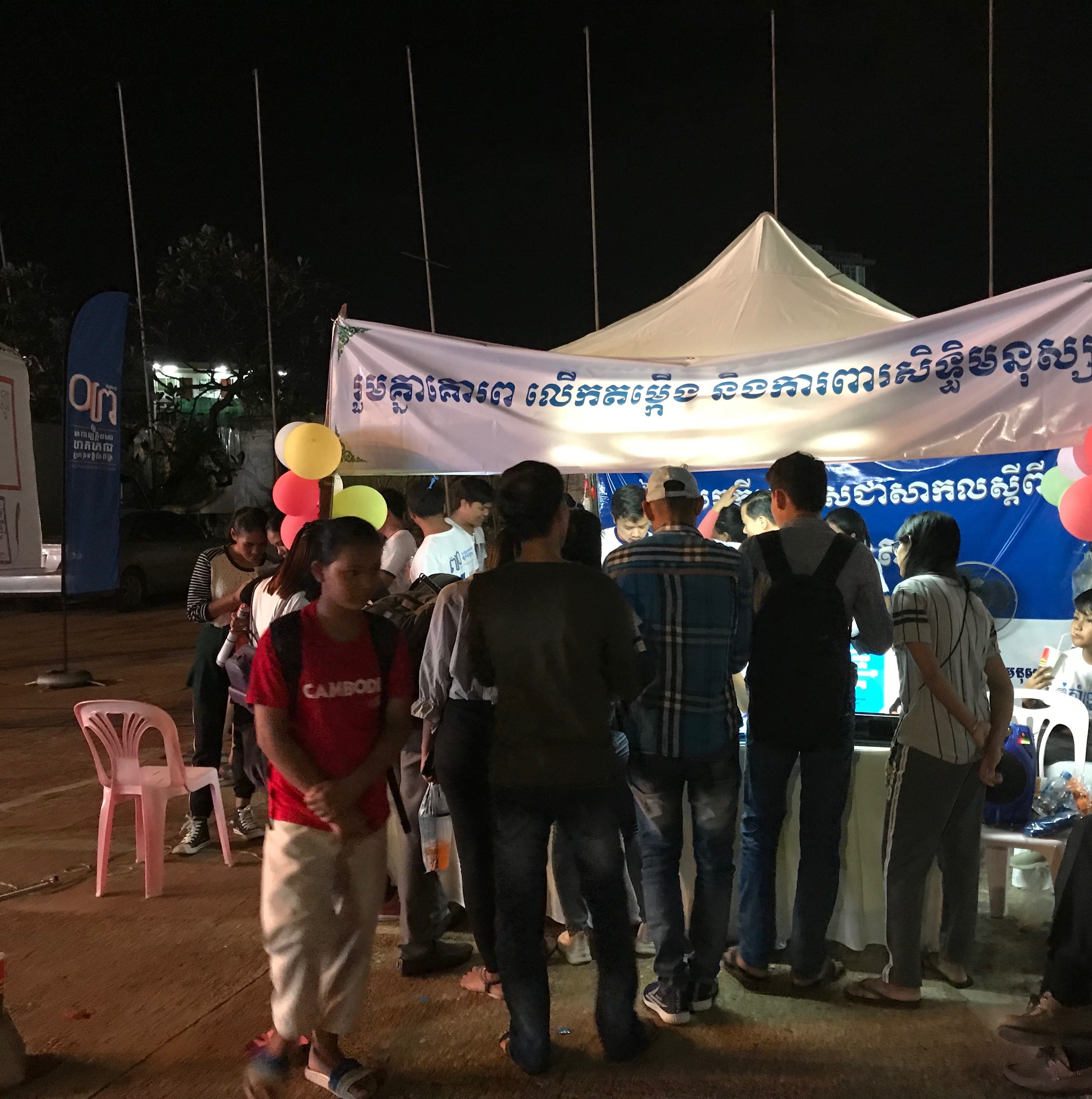 As we celebrate the 70th anniversary of the Universal Declaration of Human Rights on 10 December, Human Rights Day, we will doubtless reflect on the many ways that the historic and universal rights enshrined in its provisions line up with recent developments in Cambodia. The UDHR is the mother of countless human rights treaties, resolutions and international laws that have elaborated on its founding principles, and set a global standard for the way in which we, as humans, should live. However, Cambodia, and the world, has seen a pushback against the basic rights and freedoms guaranteed in the Declaration, leaving citizens suffering human rights abuses at the hands of authoritarian states.
The 70th anniversary of the Universal Declaration of Human Rights is a milestone that resonates with the citizens of Cambodia. Its principles form the backbone of the Constitution of the Kingdom of Cambodia, the promulgation of which ushered in a new era in which rights and freedoms would be guaranteed. It was a break with a past that had been unrelentingly violent and bereft of civil liberties. Unfortunately, many of the Constitution's core values have been contradicted in recent years by new and repressive laws and regulations seeking to undermine the very rights that were meant to put an end to the human rights violations of the past.
There are reasons to celebrate on Human Rights Day this year. Human rights defenders and former politicians have been released from prison, although some still have outstanding charges or suspended sentences hanging over them. In particular, Tep Vanny, who was detained for two years for peaceful protest, is finally free. We are surrounded by a thriving international community of institutions, organizations and individuals who champion and raise awareness of human rights. This community has been integral in bringing Cambodian issues to a global audience. The Royal Government has responded to domestic and international calls for pressure to be lifted, and as recently as last week, the government attempted to steps to strengthen democracy and the political space.
However, Cambodia has seen a deterioration of its human rights over the last two years. Progress fought for and won since the signing of the Paris Peace Accords in 1991 has been reversed, with the core pillars of a democratic state attacked. The main opposition party, at the peak of its popularity, was dissolved by the Supreme Court following a complaint by the Ministry of Interior. Its leaders have been judicially harassed and politically sterilized. Cambodia's free press, and the blossoming online community of commentators that came with our digital evolution, have been silenced, with media houses perceived as critical to the ruling party forced to close. Citizens no longer feel safe sharing their views on social media. And civil society has been targeted by a slew of newly enacted laws and amended legislation that have made it all too easy for state actors to take legal action against those working for the sustainable development of our country.
This has echoed broader regional trends of severe human rights abuses carried out unapologetically by Southeast Asian regimes. In Vietnam, human rights defenders are treated as "enemies of the state" and handed disproportionately harsh sentences for exercising their fundamental freedoms. In Thailand, defamation or notorious lèse-majesté charges are brought against those who stand up for the rights of others. In the Philippines, President Rodrigo Duterte's "war on drugs" marches on with rampant impunity for extrajudicial killings. And in Myanmar, where the military is accused of genocide by a UN report, hundreds of thousands of Rohingya refugees are stranded, stateless, at the border, or forced back to the danger of Rakhine state. And further afield, we see totalitarian strongmen curtailing the rights of their citizens, often under the guise of national security or sovereignty; in the USA, Brazil, Poland, China, and many more. Around the world, civic space is closing.
What does this mean for civil society in Cambodia? The continuing restriction of freedom of expression, freedom of association, and freedom of assembly will inevitably mean that non-governmental organizations, community groups and human rights defenders are unable to fully carry out their important work. The Cambodian Center for Human Rights has persevered through these difficult conditions to promote and protect the civil and political rights of Cambodian citizens while civil society has had its activities monitored, events cancelled, staff surveilled, and organizations shut down or forced to deregister. Amid the crackdown, CCHR was even threatened with closure.
The Royal Government of Cambodia must ensure accountability for the widespread human rights abuses happening in Cambodia. This is more crucial than ever considering that all official systems of checks and balances have evaporated in the absence of a viable opposition, any truly independent media, or an unimpeded voice from civil society.
But even as human rights are suppressed, individuals continue to counter restrictions. Human rights defenders carry out their work despite the increasingly restrictive environment, promoting and protecting the rights of all of us. They risk threats, intimidation, arrest and their liberty to prevent violations such as arbitrary killings, unlawful detention, restrictions on fundamental freedoms, abuses in the judicial system, systematic discrimination, land grabbing, mass evictions, forced displacement, statelessness, exclusion from the rewards of development, and destruction of the natural environment and its resources.
Moving forward, Cambodia must honor the legacy of the Universal Declaration of Human Rights. It must only welcome development if it is orchestrated under a human rights framework, in respect of the sustainable development goals. Goal 16, to promote peaceful and inclusive societies for sustainable development, provide access to justice for all and build effective, accountable and inclusive institutions at all levels, must be at the forefront of state policy as Cambodia progresses from its dark past to a brighter future. A future in which all Cambodian citizens stand to gain a higher quality of life – if wealth is spread fairly, without corruption; if the judicial system operates independently, without recourse to power; and if the fundamental freedoms of citizens are assured, even if they are exercised in criticism of the government.
On Human Rights Day 2018 we should celebrate our human rights defenders, and work together to ensure that the state upholds the Universal Declaration of Human Rights; a commitment it made long ago. We all continue to #StandUp4HumanRights.