The theme of this year International Peace Day is "the Right of Peoples to Peace", which is to mark the 30th Anniversary of the General Assembly Declaration on the Right of Peoples to Peace which means to recognise the promotion of peace is necessary for full enjoyment of all human rights.
Peace should not be described as merely the absence of war or violence, which is 'negative peace.' It should also include communal harmony, socioeconomic cooperation and equal political representation in government for all citizens. These, along with good governance, which respects the rights of the people, constitute the positive side of peace, or rather peace building.
Even when we say 'absence of violence,' we must first examine what violence is. While war is direct visible violence, there is also a kind of 'structural violence,' the result of bad and harmful state policies that have long-term negative effects on people, such as hunger and poverty, which harm and put peoples' lives at risk.
Reflecting to this theme and the definition above, one could not deny that people's rights to peace has been continually violated in many countries and in many forms.
We all could join together to recall the respect to those who has sacrificed their life and effort for the peace promotion and we all have the the power and moral obligation to contribute to the world peace.
I therefore would like to make awareness contribution by gifting such a powerful book I have received in my attendance at the International Visitor Leadership Program to my fellow in Cambodia who are interested in the issue.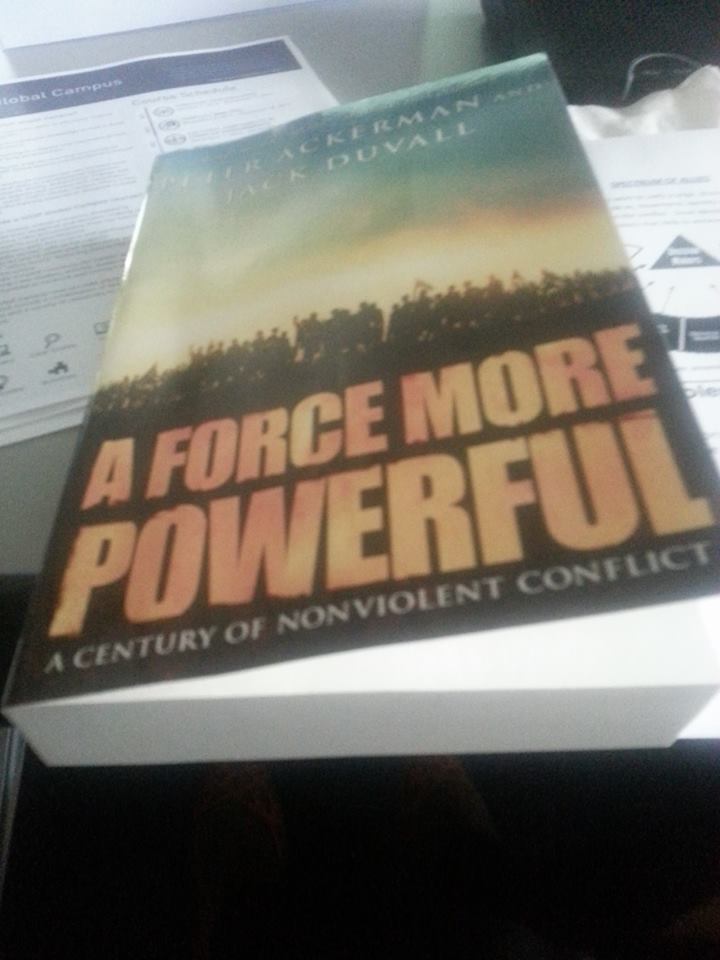 To be the winner for a 554 page book titled "A force more powerful: A century of nonviolent conflict" written by Peter Ackerman and Jack Duvall, what you could do is to answer the following (in comment section of this blog):
There is a known nonviolent activism history in Cambodia. Agree or disagree? Please elaborate.
Deadline: Answer now until mid-night of 21st September 2014, International Peace Day.
Please note that there is no an absolute answer to this, as it would depend on one's opinion. However I will choose an opinion that is matter and favor to my subjection.