By Sopheap Chak
Lessons learned from Special Lecture by Lalith Lankatilleke from UN-Habitat Regional Office for Asia and the Pacific on "Rebuilding Post-conflict and Post-disaster Communities adapting the People's Process," organized by my school, International University of Japan, on June 02, 2010.
Key words: Development, Control Paradigm, Support Paradigm, Support Cycle

This was just a great lecture I have ever attended; it is not because of the title of the lecture or the UN related organ where the guest speaker is coming from. This is because of interactive, comprehensive, and practical methodologies applied by Mr. Lalith Lankatilleke that impressed me. The following post will be divided into two parts aiming at sharing lesson learned from the lecture: (i)Key lesson learned from UN-Habitat's Approach and (ii) Best methodology to be a great guest speaker.
(i)Key lesson learned on People's Process for Development

People's process of development can be witnessed through the evolvement of people's desire to improve their lives. Humans developed their settlement from living in caves, then building shelters, and now home. Along this settlement evolution, they had also established certain norms, standards, and a mutual understanding surrounding their community. That is call people's process of development.
However this process has been taken over by the state and private sector who should have realized that people are the best producers of their own housing. The two paradigms that the guest speaker introduced here as worth discussing: When does development gains its momentum?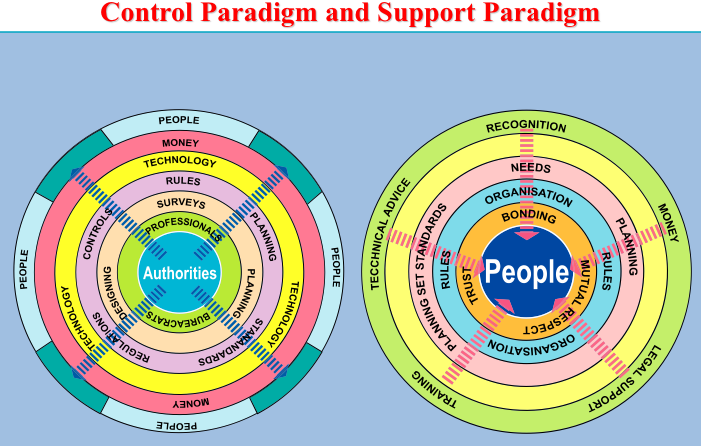 Development driven by authorities/Control Paradigm: when authorities are at the center of development process controlled by bureaucrats, it consumes more time and money that impacts live of limited number of people.
Development driven by people/Support Paradigm: when people stays at the center of development planning process, the resource can be optimized with greater utility impacting larger number of people.
While the former paradigm giving much centralization on authorities who supported by professional designers and bureaucrats, the later paradigm is more recommended since it involves people participation from the decision-making process to the final products that will satisfy their need. Yet it also requires the recognition, legal support, and both financial and technical assistance from authorities and organizations.
For post conflict situation, people's process, which boosts ingenuity and creativity among people,? is proved important in order to realize the transition from relief to recovery to reconstruction and development. To make this transition possible, support cycle is necessary: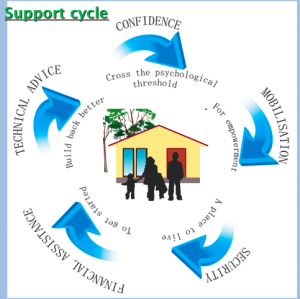 People emerged from post-conflict or post-disaster situation requires first the confident-building supports to recover from the conflict's trauma.
Then people's empowerment is needed to smooth out the people's process.
Secure them the security by supporting their housing process.
Then financial assistance will help them to get started for their live.
Technical advice will help assist people's capability.
Support methodologies were also introduced in the lecture which I found it practical and it has been practiced in a number of countries including Afghanistan which has been used as example. This includes:
Mobilization and Empowerment: giving them space to take action by mobilizing for community representatives. Then we can form the organization of elected representatives representing 10 to 15 families to start their community action planning.
(ii) Best methodology to be a great guest speaker
Interactive communication with audience always give us value-added. This guest speaker starts his presentation by asking audience to have brief introduction; so that he can pinpoint the commonness of problems or experience throughout the lecture (however, it maybe only applicable when number of participants is small).
Giving a little exercise to audience in braining their role to development process will generate more participation and understanding of our lecture. In this case, we were divided into groups playing the roles as Afghanistan's Citizen, Government, Politician, and Donor in order to identify the problems and needs so that important tasks and aid can be prioritized.
In nutshell, this lecture gave me both conceptual framework for development operation and valuable lesson learn to conduct a great lecture. Thanks to Mr. Lalith Lankatilleke!